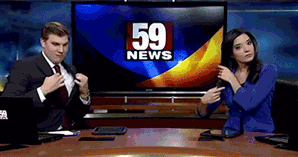 When a week goes by, and it's time to re-live the past with us.
Yes, yes. It's that time. The time of –you heard it last here! And the world has gone crazy this past week!
Now instead of a long-soul-searching-context-paragraph, let's jump right into some Highlights of the week, as we understand you need your rest or have that kick-ass party to attend!
1.China goes tech-green!
A village in northern China, Xilinshui build a giant QR code using over 1 lakh trees. The entire idea was to attract tourism. And on scanning, the QR code directs you to Xilinshui's official tourism page on China's messaging app, WeChat.
2. The Emmy Awards !!
The 69th Primetime Emmy awards aired six days ago.  The show was hosted by Stephen Colbert. And it was a hoot! Unless you didn't watch it (Please watch it!).
Now, I really hope your favorite series stole the show. Like This us or Big Little Lies. But if Handmaid's tale was your favorite show, then yayy! Because they won five awards, including Best Drama! Wow! Well deserved!
3. Hail me a Cab!
Former chief minister H D Kumaraswamy launched his very own cab aggregator Namma TYGR on Thursday. Due to his health issues, he couldn't formally launch the app. The app was HDK fulfilling his promise to the disgruntled cab drivers of Ola and Uber, who had staged protests against their reducing earnings.
4. Another Rape case?
70-year-old Godman, Kaushalendra Phalahari Maharaj from Rajasthan, was reported to have raped a 21-year-old woman from Chattisgarh. The victim said in her complaint, that Babaji raped her on August 7, and threatened her with severe consequences if she reported him.
5. Border-line problems.
India called Pakistan 'Terroristan' at the UN General Assembly. The country was labeled so as it produces and exports terrorist all over the world.
India further pointed out that Pakistan deflects attention from its own terror problems by bringing up Kashmir
"Pakistan must understand that the state of Jammu and Kashmir is and will always remain an integral part of India. However much it scales up cross-border terrorism, it will never succeed in undermining India's territorial integrity," India's first secretary to the UN Eenam Gambhir said.
6. Abof no more?!
Aditya Birla Group has decided to shut down their online shopping site – abof by the end of this year. Why you ask? They couldn't keep up with their giant competition  –Amazon and Flipkart. And things have obviously gone downhill for them.
"There are various reasons for the closure. First, the sector is not maturing to the level it was expected, and secondly, the return on investment is long drawn affair and to continue putting money into the resources is not a very intelligent idea,"
Aditya Birla Group HR director Santrupt Misra told PTI.
7. Because Cricket Is Love!!
India VS Australia, third one-day International is held in Indore tomorrow. India has won two matches. Kuldeep Yadav stole the show with a Hattrick in 2nd ODI, which helped India to win the match!
Kohli missed out on making a century in 2nd ODI, got out at 92.
India has never lost an international match in Indore. So here is to hope, and dreams!! Get your lucky charms ready cricket lovers!!
As usual, the world around you is chaos. And these were few stories of the ongoing madness! But remember, you heard it last here!
Share any stories you might have heard or read about, we are great listeners!
You can reach us at our Instagram, Facebook, or LinkedIn accounts.